Envelopes ByHandtm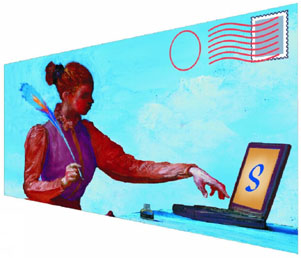 Sagittal Software Company presents Envelopes ByHand® , Version 2.0 From the company that brought you the acclaimed calligraphy program ByHand® comes their newest software, Envelopes ByHand® version 2.0. The most natural handwritten calligraphy for addressing your envelopes and invitations.
Five years in the making, Envelopes ByHand® version 2.0 is a state of the art program combining word processing, database, and recorded handwriting into one package. We have included many new features in response to requests from our customers, all to make it easier for you to produce beautiful announcements, invitations, placecards, and notes just the way you want.
You will never have to pay someone hundreds of dollars to address your wedding or event invitations. You can send your personal letters, invitations, and announcements beautifully addressed in natural calligraphy adding that touch of class.
Storing your most popular addresses is made simple. You no longer have to prepare complicated mail merges. Print one address or one hundred in just a few minutes. Select only the addresses that you want to print. Easily find, change, or add new addresses.
Add a logo to personalize your envelope. Use any one of the 10 included standard scripts. (or buy Scriptpak 1 for 10 more scripts, or use the ByHand Editor to make your own.) It's all easy with Envelopes ByHand.
Envelopes ByHand is software that you will use over and over again to send invitations, letters, and cards to family members, friends, business associates, and clients. Use it for one envelopes, or use it for hundreds. Use it for last minute invitations. Use it to print diplomas, awards, letters of recognition, thank you notes, romantic letters.
Main Features of Envelopes ByHandtm:
Print directly on envelopes or labels of any size or shape.
Addresses can be centered, left-justified, or right-justified.
Choose how your envelopes will look easily by dragging the address to the right location using your mouse.
Instant preview of how your envelopes and cards will print.
Easy set-up for envelopes and cards of any size. Just enter the dimensions and go! Prints on any Windows-compatible printer, on any paper or envelope that your printer can handle.
Option to print sheets of labels for any size label.
Save different layouts and formats for every type of envelope or card that you use - set it up once, then use it over and over.
Automatically print return addresses in any calligraphic script you choose.
Include your own graphic image on the envelopes.
Maintain your own personal address list, and print only the addresses you choose.
Import your existing address lists easily from most common databases and wordprocessors.
Automatic mail-merge feature for adding detailed notes, invitation messages, or other text to your cards or inserts.
Automatically print placecards or RSVP cards using the same address list you use to address the envelopes.
Choose quill, ballpoint, or felt-tip pens (script samples)
Select pen width(script samples);
Letters and line spacing can be as large or small as you like;
Ten calligraphic scripts included (script samples).
New features in version 2.0 :
Color printing; the address and return address can even be different colors.
Import standard VCF or VCard formats from PalmPilot(tm) and other personal databases.
Instant preview of address formatting changes so you can adjust settings exactly how you want.
Messy ink and wandering baselines to make the handwriting appear more natural; as if done by a real calligrapher!
Event-planning features: you can now manage multiple lists of addresses and easily transfer names from one list to another, or to more than one list. Choose whom to invite, then make placecards only for those who accept, then address thank you notes only to those who bring a gift. Select groups of people to sit at different tables or to go to different events. Keep a separate "A list" and "B list" and transfer people from one to the other at any time.
Better support for network printers.