Products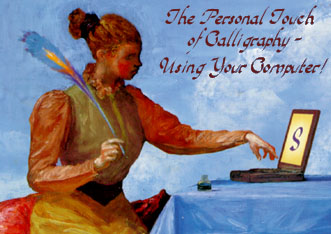 Calligraphy Software
Sagittal Software Company now offers the following calligraphy software products for envelopes, wedding invitations, diplomas, awards, and other documents. Our calligraphy software allows you to use your own computer and almost any printer to make beautiful "handwritten" calligraphy (click on any product name for more information). These products are all based on the new SagittalScripttm technology that draws characters exactly the way you do. Your documents, awards, invitations, envelopes, and personal notes will seem like you did them "ByHand"!


Envelopes ByHand Version 2.0
¨


Version 2.0: Our newest product. In response to requests from our users, we have added many new features to our flagship product to make it even easier to print envelopes, cards, labels, and invitations. With simple-to-use formatting that works for any size envelope, card, or paper, Envelopes ByHand gives you the flexibility to print directly on your own stationary. You can also print sheets of labels, and you can now choose center, left, or right-justification. Envelopes ByHand saves your address list so you can use your addresses over and over again for weddings, birthdays, dinner parties, birth announcements, change-of-address, or any other purpose. You have the flexibility to include a return address and personalized graphic image. Envelopes ByHand comes with our 10 standard calligraphy scripts. Version 2.0 includes color ink, an instant preview feature, import from Palm(tm) and Outlook databases, and the ability to manage multiple invitation lists, rsvp's, thank you notes, place cards, table seating, and other essentials for your next event. BUY NOW!

The ByHand Calligraphy Editor¨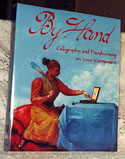 Our original product allows you to type and edit in calligraphy. The ByHand editor is best for longer documents, letters, or poetry. If you have a pen tablet, then you can use The ByHand Editor to enter samples of your own handwriting that you can use with the Editor or with Envelopes ByHand. The ByHand Editor comes with our 10 standard calligraphy scripts. (NOTE: the ByHand Editor version 1.0 may not run on all versions of Windows; please download and test the demonstration version before purchasing.) BUY NOW!

ScriptPak 1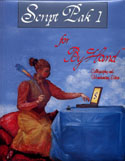 ScriptPak 1 extends the capabilities of both Envelopes ByHand¨ and ByHand¨ by adding an additional ten calligraphic scripts to the ten scripts that come with both of those programs. Now you can be even more creative! BUY NOW!


Which should you buy?
Use this comparison table:



Feature
Envelopes ByHand
The ByHand Editor
Natural-looking handwritten calligraphy

Yes

Yes

Choose pen type, and calligraphy style

Yes

Yes

Choose pen color

Yes

Yes

Print directly on envelopes

Yes

Yes

Easy envelope formatting

Yes

No

Address-list database

Yes

No

Event planning

Yes

No

Alphabetize address-list

Yes

No

Select which addresses to print

Yes

No

Print the same addresses with different formatting

Yes

No

Save format parameters for different envelope types

Yes

No

Import directly from other databases

Yes

No

Import from PalmPilot(tm) and Outlook(tm)

Yes

No

Import from text files

Yes

Yes

Print sheets of labels

Yes

No

Automatic centering

Yes

No

Print return address

Yes

No

Print personalized graphic image

Yes

No

Instant screen preview

Yes

Yes

Typing appears immediately as calligraphy (WYSIWYG)

No

Yes

Export calligraphy images to other programs

No

Yes

Enter your own handwriting

No

Yes*

Modify letter shapes

No

Yes

Multi-page documents

No

Yes

Different letter formatting on the same page

No

Yes

*Requires a pen tablet. Scripts created using the ByHand Editor are compatible with Envelopes ByHand.

Envelopes ByHand comes in three editions:



Personal Edition
Professional Edition
Enterprise Edition
Number of different address lists

1

Unlimited

Unlimited

Maximum number of addresses in any list

500

5000

Unlimited

The Personal Edition is intended for the home user who wants to keep his or her address list available and print envelopes for his or her own events, including weddings, parties, announcements, change of address, etc.

The Professional Edition is intended for small businesses or printing companies that need to keep track of different address lists for different clients. Each client is limited to 5000 addresses in any single list.

The Enterprise Edition is intended for large businesses or mailing-list companies that need to keep track of large address lists for different clients. There is no limit on the number of different address lists or the size of each list (up to available memory disk space).
Don't just take our word for it, read the online reviews and then download a shareware demonstration version to see for yourself how great your documents can look when they are done ByHand!